Lasix (Furosemide)
Lasix

100mg

price:
Quantity
Price
Per Pill
60pills

(100mg)

$53.40

$ 0.89

90pills

(100mg)

$73.80

$ 0.82

120pills

(100mg)

$90.00

$ 0.75

180pills

(100mg)

$126.00

$ 0.70

270pills

(100mg)

$175.50

$ 0.65

360pills

(100mg)

$216.00

$ 0.60

Lasix

40mg

price:
Quantity
Price
Per Pill
60pills

(40mg)

$51.00

$ 0.85

90pills

(40mg)

$58.50

$ 0.65

120pills

(40mg)

$60.00

$ 0.50

180pills

(40mg)

$81.00

$ 0.45

270pills

(40mg)

$108.00

$ 0.40

360pills

(40mg)

$126.00

$ 0.35

Lasix

20mg

price:
Quantity
Price
Per Pill
150pills

(20mg)

$52.50

$ 0.35

300pills

(20mg)

$87.00

$ 0.29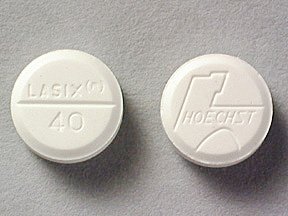 Starting from:
$

0.29
Payment Methods:



Delivery Methods:
Regular Airmail
Express Courier
Application:
Diuretic, Heart Failure, Edema, High Blood Pressure, Hypertension
Generic names:
Furosemide, Frusemid, Frusid, Frusol, Frudix, Furosedon, Frusenex
What is Lasix?
Lasix is used as a potential diuretic in patients with edematous syndrome which has developed as a result of heart disease, kidney diseases, diseases of the liver, acute left ventricular failure, burn, pre-eclampsia during pregnancy (the use of this drug is only possible after the restoration of bcc) or as a means of forced dieresis and combined therapy of hypertension.
Drug description
The active medicinal substance of Lasix – Furosemide – has a diuretic effect due to blockade of reuptake of sodium and chloride in the ascending loop of Henle. In parvo the drug affects the convoluted tubules, this mechanism is not associated with antialdosterone activity or carbonic anhydrase inhibition. Furosemide promotes the excretion of potassium, magnesium and calcium. Furosemide is metabolized and excreted, mainly in the urine in the form of a compound with glucuronic acid.

How to use Lasix?
Dosage and dosing schedule should be set individually depending on the degree of disturbance of fluid and electrolyte balance, the values of glomerular filtration. In the future the dosage should be a subject to adjustment, depending on the severity of the patient's condition, and the values of diuresis. Usually drug is given in the pill form, but if this is impossible, or it comes to urgent conditions, the drug is injected intravenously, while the introduction of Lasix shall not be less than 1.5-2 minutes.
When used intravenously, Lasix can quickly lower blood pressure, pulmonary arterial pressure, preload and left ventricular pressure. The diuretic effect was observed already after 5 minutes, reaching its maximum effect within an hour, the duration of diuretic period is about 2 hours.
When administered for peroral use, the drug starts to produce its diuretic effect within the first hour, reaching its maximum affect after 1.5-2 hours, the duration of the effective period is about 7 hours.

Safety Precautions
In the application of Lasix in large doses is a reduction of the bcc (blood volume) is observed, so that developing blood clots and thrombosis become possible. Common side effect is the development of fluid and electrolyte disturbances: alkalosis (including increased metabolic alkalosis in diabetes) deficiency of sodium, chloride, calcium, potassium, violation of the biochemical properties of blood: increased creatinine, cholesterol, triglycerides, uric acid (with exacerbation of gout), glucose (especially diabetes).
Marked electrolyte imbalance, intolerance to furosemide or any other component of the drug, anuria, dehydration, lack of BCC, hepatic coma any stage of pregnancy up to 12 weeks, and lactation are all considered as grounds for contraindication for Lasix therapy E.