Advair Diskus: Additional Information
Read the following information about Advair Diskus to get the maximum benefit from the medication and minimize the risks for side effects.
[ithshop code="advair" tpl="short" page_id="2189″ dummy="txt"]
Special Instructions

The medication is not suitable for the relief of acute asthma attacks.
Use Advair Diskus as a basic therapy after failure of monotherapy.
Compared with the increased dose of inhaled glucocorticoids, the combination of Salmeterol and Fluticasone does not improve the safety profile and clinical course of asthma but improves the indicators of the respiratory function.
Compared with monotherapy, Advair reduces the frequency of COPD attacks but increases the risk of pneumonia.
Compared with monotherapy, inhaled corticosteroids reduce the frequency of COPD attacks.
Compared with placebo, this asthma medication improves the quality of life in patients with COPD.
Addition of β2-agonists of long-action reduces the need for inhaled glucocorticoids with the same level of asthma control.
Necessary monitoring: growth and development of children; method of inhalation, lung function; ophthalmic status in case of treatment more than 6 weeks (risk of cataracts, glaucoma, infectious diseases).
By its efficiency, Salmeterol and Fluticasone are comparable with a combination of Budesonide + Formoterol.
In emergency cases and planned situations that can cause stress, you should always keep in mind the possibility of adrenal suppression and be ready to use corticosteroids.
Patients with asthma cannot abruptly stop the treatment with Advair Diskus due to the risk of asthma exacerbation, the dosage should be reduced gradually under medical supervision. In patients with COPD, cancellation of the drug may be associated with symptoms of decompensation and require medical supervision.
More frequent use of short-acting bronchodilators to relieve asthma symptoms indicates deterioration of the disease control – in such situations the patient should consult a doctor.
As a patient may experience adrenal insufficiency when transfers from oral corticosteroids to inhalation of Salmeterol and Fluticasone, the therapy should be conducted with extreme caution and regular monitoring of the adrenal cortex function.
During treatment with inhaled Fluticasone, the systemic corticosteroids should be canceled gradually, and such patients should have a special patient card, containing an indication of the possible need for additional administration of SCS in stressful situations.
Patients with acute exacerbation of asthma and hypoxia should necessarily control the concentration of K + ions in the plasma.
There are very rare reports of the increased blood glucose level, and this should be remembered when prescribing a combination of Salmeterol and Fluticasone for patients with diabetes mellitus.
Like other inhaled medications, Advair for asthma may cause paradoxical bronchospasm, manifesting through the increase of breathlessness immediately after application. In this case, you should immediately apply a quick and short-acting inhaled bronchodilator, discontinue using the medicine, examine the health indicators and start, if necessary, an alternative therapy.
There were reports of adverse reactions related to the pharmacological effects of beta2-antagonists, such as tremor, subjective feeling of heart palpitations and headache. However, these reactions are short-term, and their severity decreases with a regular therapy.
Effects on ability to drive vehicles and mechanisms management
Clinical studies have shown no data on the effect of the drug on the ability to drive vehicles and manage other mechanisms but consider the possible side effects.
Storage conditions
Advair Diskus should be stored and transported in its original packaging;
At room temperature between 67°F and 78°F;
Do not freeze;
Do not expose to direct sunlight;
Keep out of the reach of children;
Shelf-life of this medication makes 1,5 years.
How to use Advair Diskus for asthma?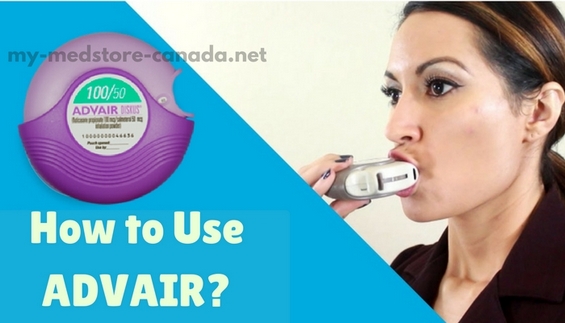 Follow the following guidance every time when you use your Advair Diskus:
Open the device;
Slide the lever until it clicks;
Do the inhalation;
 Close the device;
Rinse your mouth with some water.
Remember when using this medicine:
Every time you use the device, make sure it's in a level, flat position;
Ensure the drug lever firmly clicks into place;
Do not exhale for about 10 seconds after inhalation;
After 10 seconds exhale fully;
After each inhalation, rinse your mouth with some water and spit it out;
Do not swallow the water after that;
Do not exceed the recommended dosage, even if you feel no taste or powder;
Do not take the device apart;
Do not wash the device;
Keep the device in a dry, dark place;
Do not use the device with a spacer device.
You may buy Advair Diskus online at My Canadian Pharmacy on beneficial conditions!